It's been a beautiful month of Meezy — our August icon who has led conversation in every corner of culture, keeping us up for a lot of late nights. He's truly one of the greats, and our new icon is carrying on the tradition in her own way! Welcome to tiniest little square stage, the September app icon: Leah Lamarr!
Leah has, in many ways, been an unofficial icon for months now. Her club Hot on the Mic consistently hosts some of the most popular comedy rooms on Clubhouse, and her many of her 230,000+ followers can often be found in the audience of her real-world standup shows. When she's not hosting Clubhouse rooms from her bed, Leah can be found performing at venues around the US.  Most recently, she joined fellow Clubhouse regular Dane Cook at the Cosmopolitan in Las Vegas for a packed crowd:  "Picture me, a dead inside comedian, finally ALIVE...this was by far the biggest venue I've ever played and for the first time in my life, I walked off the stage proud of the comic I've become and the comic I know I will be."
We couldn't think of a better person to greet you from your phone screen at this moment — someone who brings a thoroughly unfiltered, unpretentious kind of joy to everyone that crosses her path. Joy, and dick jokes. Hey, this is an 18+ platform, don't be mad.
Leah shared more about her story and how her comedy has evolved through Clubhouse in a special conversation with Dane Cook — check out an abbreviated transcript from the room below!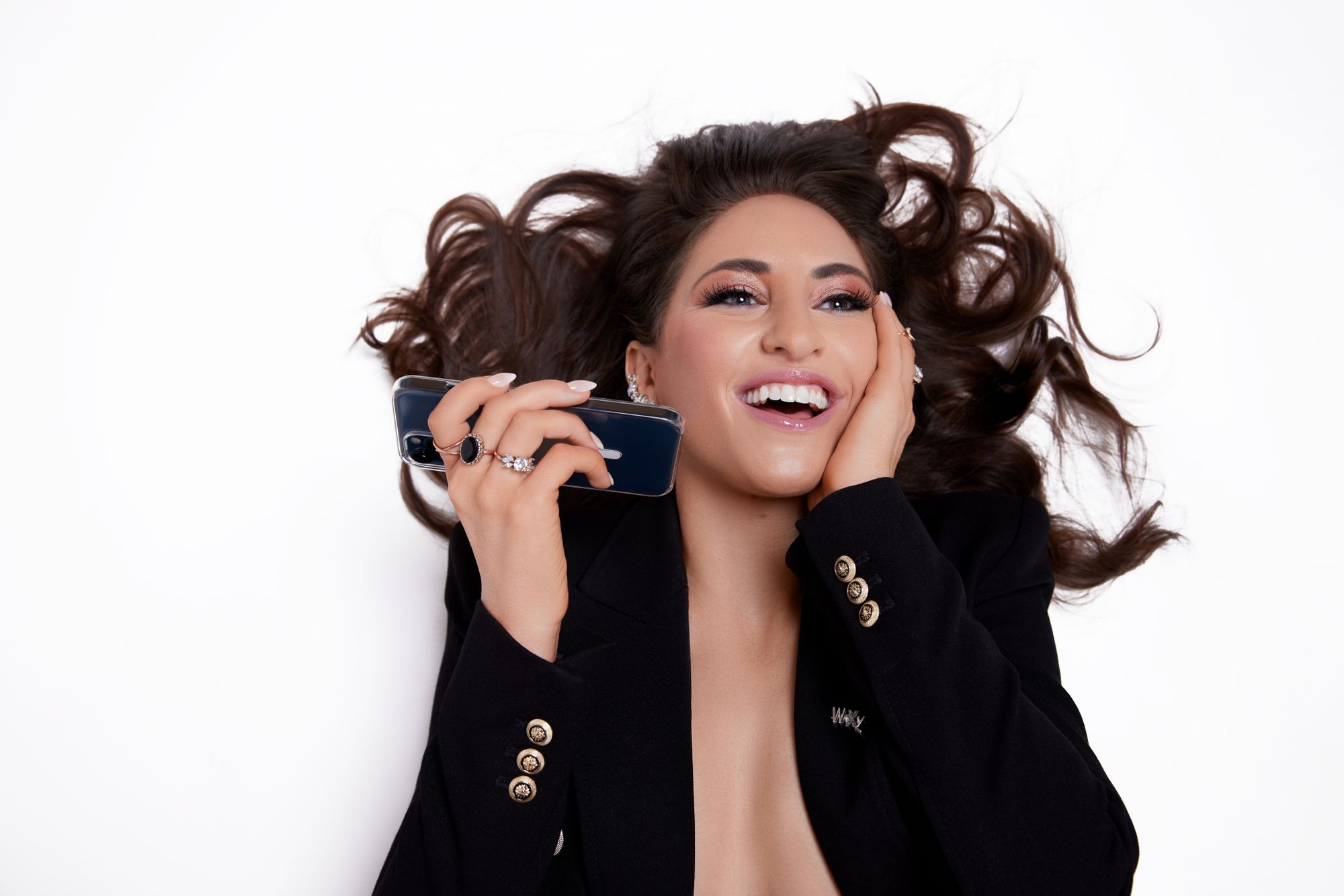 Dane Cook: First, this is really awesome. The photo is iconic. I'm so genuinely enthused to be a very small part of a huge journey that you have ahead of you. I want to share very quickly, before I jump in to questions, something that really impacted me most about performing with Leah —  for everyone listening, she was kind enough to jump on my show down in Vegas. After the show, there's a time when you're getting emails and reading the DMs, hoping everyone loves the show — there's usually trolling or backchannel remarks but there was nothing. In fact, I was telling someone the other day, a comic said to me, "I joined your journey 20 years ago after you were on MySpace. Watching Leah Lamarr with you in Vegas, I feel like I'm starting another epic journey with her. I look forward to being on her journey." That made me so fucking excited for you.

Leah Lamarr: I would cry if I could, but Zoloft is one hell of a drug. Featuring for you in Vegas, it was my first time. I went straight into the biggest experience. It was sold out. Nothing short of extravagant. Dane murdered for 90 mins, haven't seen anything like it. Your fans, it was incredible. Appreciate you taking me along for the ride.

DC: So for everyone checking in for the first time, tell us, what was it about Clubhouse that brought you on? How did you know "this is going to be my lane" beyond traditional standup?

LL: It all started in the pits of despair. A long time ago I got my heart broken into a million pieces. My friend Nicole Benham suggested I get on the app, nothing related to the breakup, no one knew where the app was going to go. Just knew it was poppin' and people were on here constantly. Didn't think about going comedy yet. It took 2 weeks before I became obsessed with being on here as often as possible. For me, coming into a room and starting conversations with literally thousands of people listening is like doing comedy with a mic in your hand to a live audience. There were lots of business rooms — not to forget the moan rooms, which are also business rooms — I would just tell jokes, not standup jokes, just lighthearted remarks in serious rooms. I didn't realize how many followers I was getting...that's a lie, I was obsessively watching. But I was starting to realize I need to do comedy here. That's when Hot On the Mic was born, then I started doing stand up shows sporadically and with lots of friends... we have a very beautiful ecosystem of international comedians from around the world. I'm in awe of the progress we've made together.

DC: Wait a second, you're being quite humble. Lots of people can put a mic in their hand but not have ease of use or sound relaxed. That takes years and years. How long were you performing standup and realizing what you were doing was working for you?

LL: You know, Dane, I'm coming up on my 6 year anniversary. People would say I'm still a baby in standup. When I first started my journey, I was eating shit left and right. Bombing, couldn't figure out my footing or voice. Someone told me it takes 10 years to find your voice, and then you still won't find it. For a long time, crowd work was the least comfortable thing for me. But I noticed being on the app that I have a knack, so I pushed myself to do crowd shows. We did roast rooms, and having to think on your feet and be present and clap back immediately, we got so good at it. It's hard, but this app accelerated that for me. It pushed me over the edge and now it's one of my greatest skills.

DC: I'm the old bull 30 years in, but what I've seen is that the funniest material means nothing if the in-betweens are not organic. Even if the person is caustic or unlikeable, if they're truthful and leaning in, you can be a snarky little shit, but if people understand it's from a truthful place and not malicious, they will gravitate towards you. If you have the ability to be on your feet and they can't see the seams — that's what I saw with you. Ok, but what other ways has Clubhouse changed your standup?

LL: Well, Dane.

DC: I feel like Oprah.
LL: Something you said to me, Dane, was that your favorite comedy is weaving between crowd work and jokes. I did that this weekend and it was revolutionary. Going in between scripted jokes and crow work is a feeling I've never experienced before. The crowd thinks it's magic but in my head, I can't believe I'm doing this. What I think is interesting is that this app has made my joke writing infinitely better. On this app, it doesn't matter who you are, anyone could be funny. It takes away physical comedy and comes with straight jokes. Made me a better joke writer, better at riffing, responding to people in the moment. It also eliminates any barrier of entry. Anyone can be funny from an avatar. It removes the instinct to see me and not find me funny because I'm a cute girl, which is very relieving — because they listen to jokes and my set. It also takes that tiny crutch away that maybe they're not laughing because of the way I look.

DC: So, I've talked to Leah Lamarr fans in the backchannel. Some things people asked that I'd like to know, too. Everyone wants to know your pre-show rituals. Whitney Houston got sick before each show. People have superstitions, people pray. Is there anything you need to do to prepare?

LL: I am v superstitious. If I have a bad set, I'll never wear that outfit again. I do power poses, I do fists on hips and fists in the air. I say mantras out loud. They're very clinically insane such as "you're killing it", "everyone loves the show", "everyone thinks you're hilarious, the audience loves you. Vocal warmup, face warmup, stretch my body, and I usually poop 3 times a day before I go up.

DC: Not that anyone asked but I bathe in emeralds. Another fan question: what's the long term goal of your career? Where are you going?

LL: Very honestly, for me all I want is to bring joy to people. That will come in many forms, or so I hope. I'd love to star in a sitcom, be in feature films, beyond comedy. I'm a classically trained theater actor, actually, and I came out to LA to be a dramatic actor — one agent said "you're more funny, less pretty" and I was like, OMG you think I'm funny? But yeah, I'm inspired by people like Lizzy Caplan who span period pieces, dramas, comedy. I'd like to have a big, full life that lets me work with my friends and bring them along.

DC: What would you recommend to someone who's nervous to get started as an actor or comedian, on Clubhouse or generally?

LL: My favorite thing is the collaborative nature of this app. I didn't know my people at first but I found them, so I would say start by looking for yours. And just get started. Starting and getting over the fear. If you feel like a failure, I relate, but at the end of the day, no one is keeping score. The only one that remembers is you. You want to end the night knowing you tried your best instead of regretting. I had a weird set recently — well it started amazing, but then one audience member was so drunk, there was heckling...those are the moments that are your greatest teachers. I failed a million times. I can't tell you many jobs I've gotten that don't happen at the last second. Everything happens for a reason. Start today. Start now.

DC: Amazing, thinking about how you're going to fail feels worse than actually failing. Failing is better, because you're getting data. Thinking about failing is fucking mortifying. So yeah, everyone, get into these rooms. S

LL: I wish someone had told me this: If you bomb and that feeling is worse than not trying at all, this might not be for you. You have to get used to the feeling of sweating through your shirt.  You'll bomb, then you'll go to another mic and you'll get laughs and not know why. That is the magic of it. You've got to remove that expectation. No one is a surgeon in their first day of medical school, so lean into the stink and find your community, find writing groups, get stronger — it's about reps and getting back up. I was hosting rooms 5 times a night, I was pounding the pavement, and that made me so much better. Though, if the fear is eating you alive, take a break. Also, therapy helps. I'll leave it there.

DC: What were some of the things early in your life that made you want to act out and be hilarious for a living?
LL: Just being extremely frank here, I think I grew up in a tense household, and that is the polite version. I was kind of the clown of my family, always putting on a show, to make sure that everyone felt okay, which didn't necessarily work...all it did was create this desire for me to always put on a show for people. Do you love me now, do you love me now? that sort of feeling. And of course, I was always loved. However, some people don't receive love in ways that they are getting it.
I actually felt quite shy in public situations, because I was very afraid of authority, and I wanted to make sure that I didn't cause any ripples and that I didn't upset anyone, and that I was always a good, nice girl. And, you know, I was like one of those people who was the captain of every sports team and I was in the chorus and I was the president of every club and a straight-A student and I was always so nice to everyone and that was kind of my vibe — I was a little bit of a goody-two-shoes over-extender, bending over backwards to please people. And then I went to college, and I started pursuing what I actually wanted to do, which in my heart was to sing and dance and be free — because I did feel very trapped for a very very long time. Entertaining has always been in my blood. I just wasn't really allowed the freedom of entertaining. I think what my family wanted for me was something stable, and that they wanted something that had longevity and ease. And that's never what I wanted. That's not who I am. You know? I'm a crazy night owl. I would make these large scale art projects in my bedroom late at night, and yet I was still always pushed away from art, but that's where my heart lifted. And so when I got to college, I finally felt free to make my own choices, but my mind was still wrapped around the idea that I needed to please my parents, instead of just doing what I wanted. So I always treated art as a hobby. When I got my fourth year, I was like this is all I want. I completely changed my major, everything was about art. And then I started traveling up to New York City. And that's when I fell in with the artist community – I had never really felt engaged in the science community, there's no place for humor there it felt like it felt very sterile and it didn't feel like there was a place for me to be me. And ever since then I haven't really looked back.
DC: We had a similar conversation after our show the other night, and I was so appreciative you shared with me as you did. Your level of introspection is...it's to be applauded. Okay, another fan question, this is a good one: what's been the most valuable lesson you've learned in your experience in clubhouse, or a favorite moment?
LL: I mean, do we have a couple hours to just discuss this? I'm constantly learning on this app, truly, I will just say that. I can't even answer about my favorie memories because the list could just go on and on, but the Passover Seder that I hosted with Nicole Behnam that was sponsored by BuzzFeed was so great — we had Tiffany Haddish and Tori Spelling drop in, and it was a wild moment. It was just beautiful moment for the Jewish community and I felt very proud. We also had a Holocaust survivor in the room, and it was really deeply impactful for me to also have my family listening in and being so proud of that moment that we could all connect around. The Jewish community here is so strong, by the way, and I respect that so much. There's something that I've learned about this community that feels so different from most of the other apps I've been on, which is that we really invest in each other, and that is probably the deepest lesson that I've learned, as I've watched hot on the mic growth over 65,000 followers, and have people actually come to see my shows live. One of the coolest things has been hosting multiple fundraisers on this app, and people are so generous. I hosted a benefit for stop Asian hate, and we raised almost $18,000, and the only people who performed on that show were women in comedy from around the world. And of course my beloved friend Jin, who recently passed, I helped host a benefit for his medical bills. We raised almost $40,000 in one night with people coming and performing, and there were so many talented people who were just willing to dedicate their time, Because we all love each other, and we support each other. I actually paid homage to him in my icon photo, by the way — I'm wearing a pin that says WXL, he was an icon himself, and so I wanted to share this photo with him as a symbol of respect and admiration. And I also want to thank you, Dane, you were so generous in donating.
DC: Well I just appreciate the way you are spotlighting and highlighting so many important causes as well as great people. I really do. Ok, last one, a cheesy one that you always get at the end of an interview but honestly it's too good to pass up. What would you tell 10-year-old Leah Lamarr? Just for her to know?
LL: I would say don't be so worried. I think a lot of my life has been riddled with fear. And who's to say if it's because I'm Jewish — tell me you're Jewish without telling me you're Jewish, you know? But I think I've spent so much time just trapped in indecision and fear and worry and doubt. and it is such a time sink, and a time waster. And if you could just believe in yourself and believe that it's all going to work out. I was on the phone earlier with my friend Elisa Jacobs who I met from this app, and Elisa said, "I feel like you are finally who everyone saw you are, but now you agree with that." And that was really emotional for me to hear that my peers are starting to see that growth — the growth to finally believe and know that I'm a good person, I'm trying my best, I'm trying to be better and help others and give back.
DC: Your future is very bright. And I just want to say again, I've loved watching you work, as a fan, and then as a peer to share in it. So I'm going to hand the mic back to Steph and say, One more time ladies and gentlemen, Leah Lamarr!
LL: Thanks so much — one last thing I just want to say — I really love this community, I mean truly there's nothing like it. This is a community of people care, who love so deeply, who are there from day one, I'm getting so many messages people telling me about old rooms from day one until now, and we don't give up on each other and we stick together, and I think this is, this is what Clubhouse is all about.