While Clubhouse is a place for unparalleled discussions, communities and conversations of all kinds, our ultimate mission is to increase friendship in the world. And it happens here, every day.
Why? Nothing does more for our happiness than having good friends. They make your life richer, make you think, and make you feel at home.
"Take the initiative: Reach out to your Clubhouse friends and suggest meeting up in person." - Morris Mills
But there is a difference between online friends and online friends who take the relationship to the next level: meeting IRL. And we know it happens all the time on Clubhouse. We've heard about so many real life meetings, from dates and marriages to bachelor parties and girls' weekends. People are getting on airplanes or driving for days to meet each other because of the bonds and connections they made on Clubhouse. These are stories we love and want to share.
While your new BFF might be across the globe, they could also be across town. Recently, former app icon Parisa Rose organized an IRL event in Los Angeles, creating a House to plan and support the event. It was at this gathering that our latest app icon was born.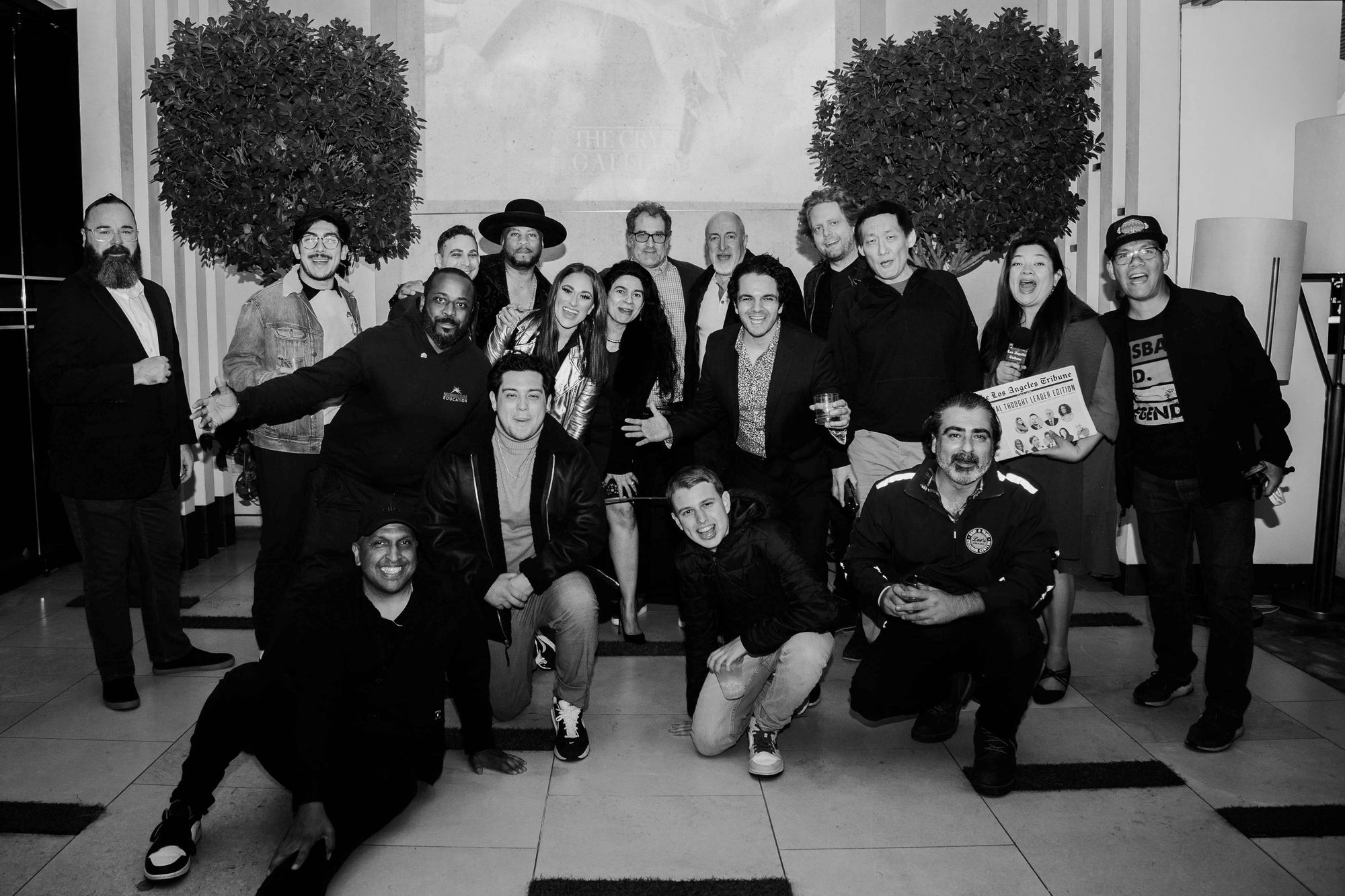 Meet The Icons
Evan Stern and Morris Mills had already met in Clubhouse rooms, but their meeting IRL was, well, iconic. Let's meet them in their own words:
Tell Us About Yourselves
Evan Stern: I was born and raised in Minneapolis and moved to Los Angeles two years ago to live my best life and pursue a journey of self-discovery. My professional backgrounds are nonprofit fundraising and fine dining. I currently lead a Japanese restaurant offering traditional Kaiseki (懐石) style fine dining centered on ultra fresh tasting menus, sake pairings, and a chef's counter for more elevated experiences. For leisure, I most enjoy dining out, seeing live music, watching great TV and, of course, spending quality time on Clubhouse.
Morris Mills: I was born in Greenville, Texas and spent my childhood in Chicago. After pursuing my passion for music, I eventually moved to Los Angeles. As an artist, I'm involved in every aspect of music creation, from writing and singing to producing and performing. I'm also the CEO and founder of Strawberry Hill Records. I love to try new foods and explore new places. I'm also a big believer in the importance of family and friends, and I enjoy spending time with loved ones. I feel grateful to be able to pursue my passions and to live a life that is full of creativity, connection, and making a positive impact in the world.
"The serendipity of their genuine interaction met the exact intention of the room, which was to bring genuine people that held an openness to connect with others together for the IRL meetup," - Parisa Rose
How Did You Connect on Clubhouse?
ES: Morris and I connected over a shared reverence for music legend Prince. When Morris and I first spoke to each other, I knew he was someone I would feel excited to meet in person. And sure enough, he turned out to be an absolute gem.
Tell Us About This Moment?  
MM: We were all standing around the bar in a circle, chatting. Dr. Rowshanak Hashemiyoon offered us some chocolate and I took a bite, but my taste buds didn't agree with it. My facial expression must have conveyed my disgust and Evan noticed and burst out laughing.
What Advice Would You Give To The Clubhouse Community Looking To Turn Their Clubhouse Friendships Into Real-Life Friendships?
MM: Take the initiative: Reach out to your Clubhouse friends and suggest meeting up in person. Don't be afraid to take the first step and make plans. You can suggest meeting for coffee, going for a walk, or attending an event together.
Find common ground: If you're unsure about what to do together, try to find common ground. Maybe you share a love for a particular cuisine, or you both enjoy hiking. Use these shared interests as a starting point for planning your hangout.
ES: There are so many cool and talented artists on Clubhouse: comedians, musicians, actors, writers, filmmakers, chefs, designers, and much more. It's always fun to support Clubhouse friends and acquaintances by showing up to their comedy set, concert, play, gallery opening, popup event, or farmers' market. Then you can invite other friends to meet up there and join in supporting a fellow Clubhouse connection. I have been blessed to meet so many wonderful Clubhouse friends and brilliant artists in person this way.
Do You Have Any Plans to Continue Meeting Up in Person?
MM: Absolutely! Meeting up in person with my Clubhouse friends was such a fun experience,  It's great to have these online friendships that can turn into real-life connections, and I look forward to continuing to hang out with Evan and the others that I've met.
ES: Definitely! Especially as someone living in a new city, meeting up with Clubhouse friends has formed the foundation of my social circle in my new home. I'm deeply grateful to Clubhouse for providing a platform to build these relationships, and I'm excited to continue getting to know the amazing Morris and so many others in the years to come.