It has been a very busy week few weeks here at Clubhouse — filled with people waving, clipping, universally searching, planning their Replays, and diving into spatial audio. Clips is now available to all iOS users, Search is now rolled out to almost everyone and the feedback has been amazing, so why slow down now?!? Today, we're shipping another product update and welcoming the latest app icon, Mandiie Martinez!
Clubhouse Links
Many people have told us they prefer private Clubhouse rooms to phone calls or video chat. There's something nice about seeing people's photos and knowing who's talking, without feeling any pressure to turn on your camera. It would be great if you could just grab a private Clubhouse room link and drop it in a calendar invite, like you can with most video chat services. Now you can!
To grab a Clubhouse Link, just tap "+ Room" in the hallway, then tap "Share a room link". A unique link will get copied to your clipboard so you can text it to a group, drop it in a calendar invite, or add it to an event listing anywhere. The room will be private — open just to the people who have the link — and you'll get notified when people join.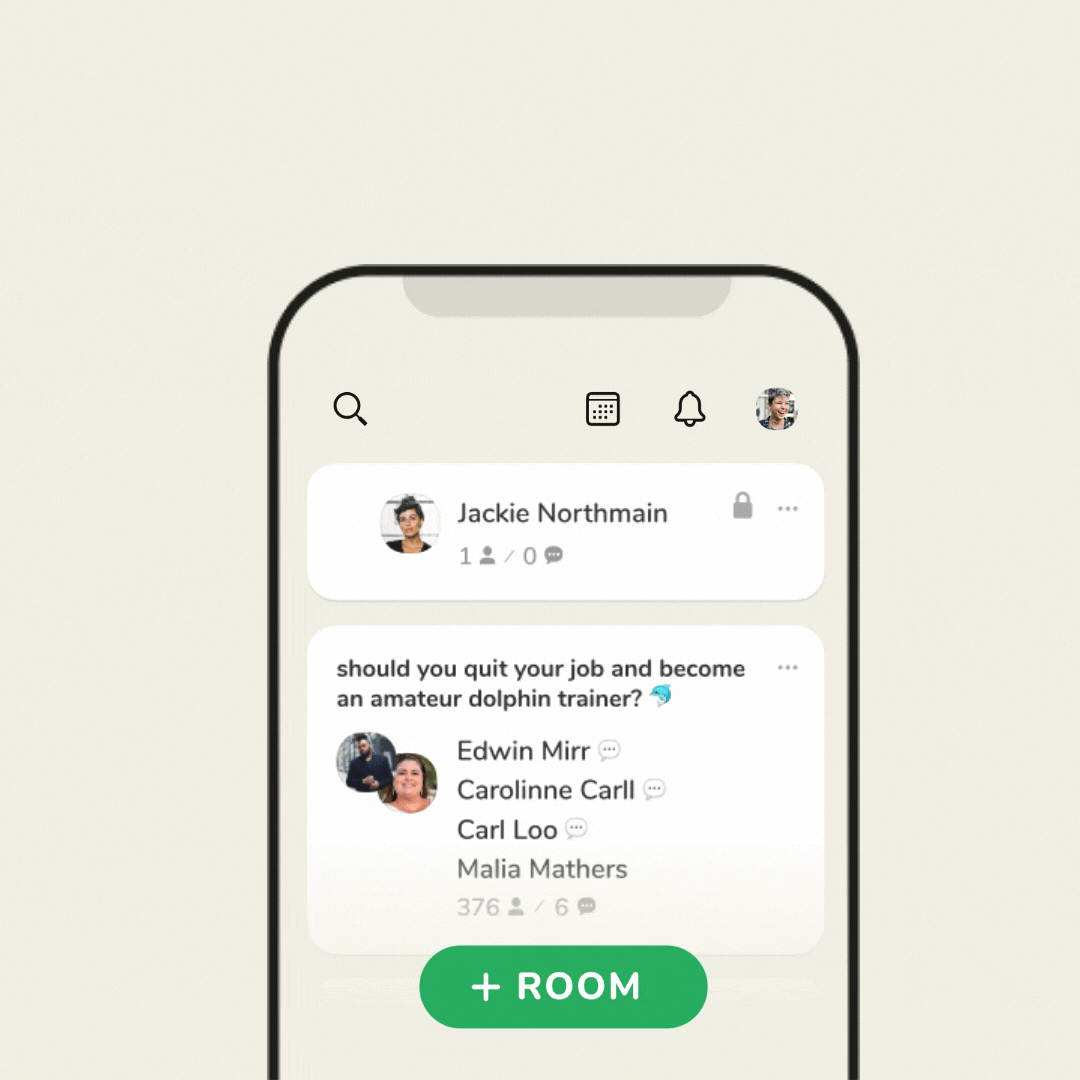 We hope this feature will make it easier for you to have 1:1s, for moderators to catch up privately before a big conversation, for creators and community organizers to host private events, or for friends to reconnect on a regular basis — for monthly drinks, birthday parties, or virtual watch parties for their favorite games and shows.

Clubhouse Links is rolling out in beta on iOS today, and we're excited to see how people use it. Please test it out and send us any bug reports!
Say Hello to Mandiie Martinez 👋
As the new month begins, it's time for us to say a huge thank you to the current face of the Clubhouse community — comedian, philanthropist, and elevator of aspiring creators, Leah Lamarr. Assuming the mantle (starting to get Batman vibes) is multi-hyphenated creator and club organizer-extraordinaire, Mandiie Martinez, who will be the face of Clubhouse for October!
It was obvious that Mandiie was a major contributor to the Clubhouse community from the first time we heard her speak, but the team got really excited about her as icon when we posted about her club, Chingona AF, in celebration of Latinx Heritage Month and saw member after member expressing their love and admiration for Mandiie's work and the friendships they've found among the Chingona AF community. The home this club has created — originally intended to be femme Latinx-centered, but expanded to welcome all Latina/o/x/e people and allies after a flurry of interest — is a testament to the grassroots feeling of human connection and empowerment that is so unique to this part of the Internet.
Chingona AF was built from the ground up as a safe place for ALL Latinas to explore culture and identity. Chingona translates to "bad ass women '' and its members celebrate authenticity, emphasizing the importance of being "enough" as you are. From hosting discussions on body positivity to bringing in authors like the incredible Prisca Dorcas Mojica Rodriguez to celebrate Latinx Heritage Month, Mandiie's open heart has made Chingona AF one of the cornerstones of Latinx Clubhouse. She won our hearts and those of the community with her infectious laugh and the way that she enables heart-to-heart conversations. So this month, we follow Mandiie's lead and walk with her through life "con cariño" (or "with love") ❤️. Welcome Mandiie!