Introducing Universal Search, Clips, Replay, and Spatial Audio for All
At Clubhouse we like to ship quickly. Just last week we saw the one billionth Backchannel message sent and the response to the Waves launch has been massive! Here is what's new this week:
Universal Search
It's crazy that you can't search for rooms on Clubhouse...well now you can, because today we're shipping Universal Search. This will allow you to search for people, clubs, live rooms and future events — so you can find your friends more quickly, discover amazing clubs and events related to any breaking news or nerdy interest, and find rooms about specific things happening in the world right now.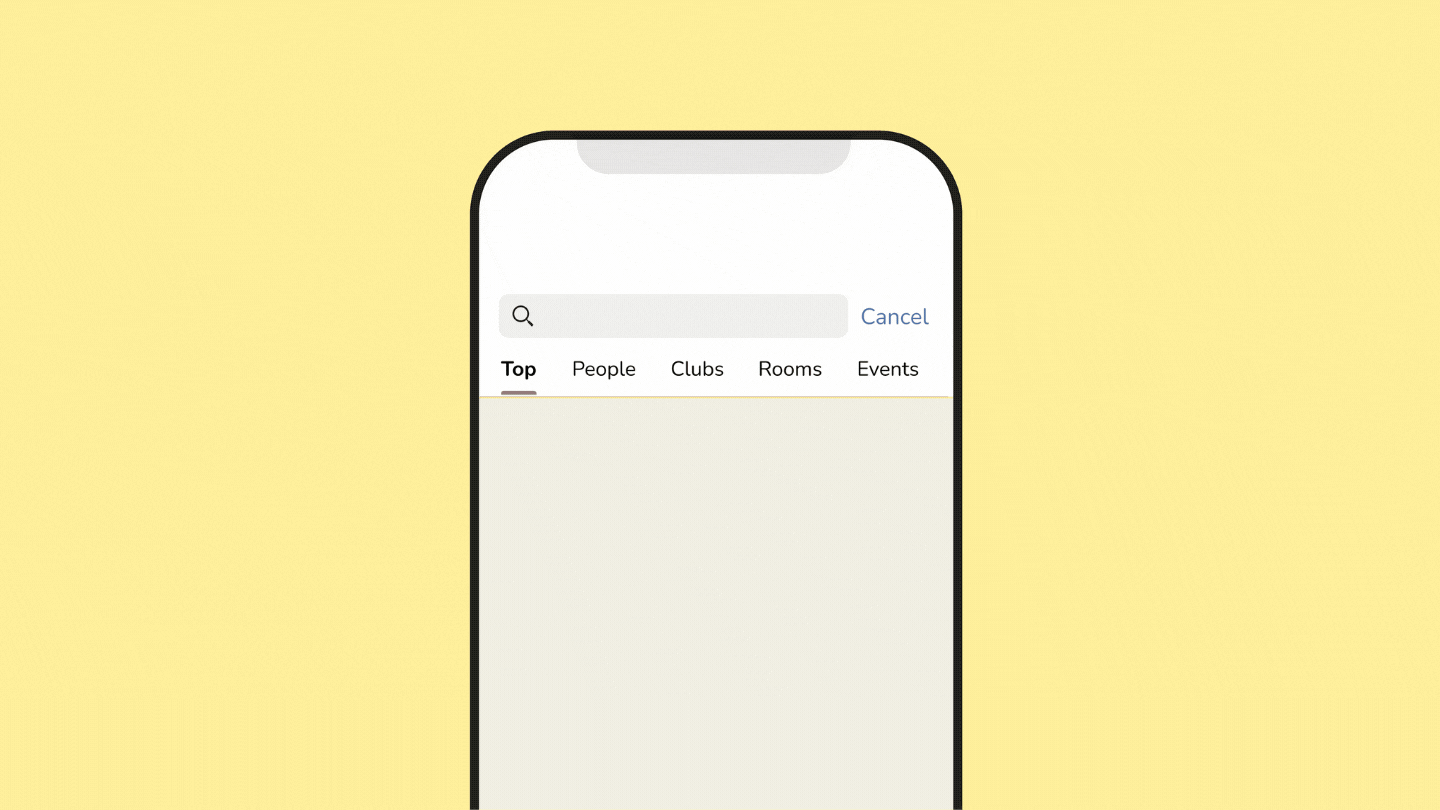 Universal Search is rolling out on iOS and Android starting today. For the first week or two it will stay in the Explore tab while we get feedback from the community and continually improve search results. Then we'll move it to the hallway. :)
Clips
We also want to make it easier for creators to share great moments and grow their audiences on Clubhouse, which is why we're launching Clips.
Clips — rolling out today in beta — will allow anyone to share 30-second clips of public rooms, so more people on the Internet can discover and join your club. Here's how it will work:
When you start a room, you can choose whether you want clips enabled. They'll be on by default for open/public rooms, and you can toggle them off anytime. They are not available for private, social or club rooms.
If you've enabled Clips, people will see a new icon (✄), which they can tap anytime to grab a Clip of the past 30 seconds. This lets them share a preview of your room with others, or capture an incredible moment that just happened.
People can share Clips of your show to Instagram, Twitter, Facebook, iMessage, or WhatsApp — and even save them to their camera rolls for quick editing first.
We're beginning to roll out Clips in beta to a small group of creators starting today, so that more of the world can see — and join in — the incredible, human moments being created here each day.
Replays
Remember when we said we want to make it easier to grow on Clubhouse? And now it's easier? That again.

In the coming weeks, we'll be rolling out Replays — a new way for people to experience your live rooms on Clubhouse. Just later. :)
You'll be able to choose whether you want Replays enabled when you start a room. If they're on, your room will be discoverable on Clubhouse for as long as you like — and available for you to download and share anywhere.
Replays make it trivially easy to create great audio content, get discovered by others, and grow your audience over time. There are a lot of details we want to get right here, so we are going to be testing and continuing to develop this feature in the wild for a few more weeks, and plan to roll out access to creators and community members beginning in October.

Bonus! Spatial Audio for Android
Spatial Audio has been even cooler than we expected. From musical performances to storytelling rooms, to debates, it has really improved the experience on Clubhouse… so now we're rolling it out to everyone. Huzzah!
Ok that's a lot. We hope you are excited for this next wave of features. Stay tuned for more, keep reporting those bugs, and thank you to the community for making Clubhouse the best place in the world for social audio. ✌