Replay the full experience. Pin links to a segment. Skip to the next speaker. See who's joining. Download the source file, and even see total attendee counts!
A Clubhouse room is much more than a live podcast. It's a shared space where people gather and community happens. Creators take questions from the room. They share links to the things that the group is discussing. New people discover the room from the hallway and join midway through. Friends talk for hours about all sorts of topics, and the final room looks nothing like it did when it started.
When we set out to build Replays, we wanted to create something that captures the magic and energy of a live Clubhouse room, in ways that non-interactive audio streams alone cannot. Today, we're starting to roll out Replays on both iOS and Android. Think of it as live, but later — and available to everyone.
Replays
Replays are an optional feature that creators can choose to toggle on or off for any public room. When Replays are enabled, anyone on Clubhouse can replay the entire experience whenever they like. They'll get to see the same elements of a live room like Leave Quietly, and watch the dynamic of the stage and audience shift and evolve throughout the discussion, including PTRs, mic taps, and all the special moments that only happen here. Here are some of the special features you'll find:

Pin links to any segment
A few weeks ago we launched Pinned Links, which let room mods pin a link to the top of the room, and update them whenever they like to reflect the changing conversation. This lets them play games, shout out their sponsors, link to polls and surveys, share products, host fundraisers, sell tickets to a real-life event, and gain subscribers for their podcasts or newsletters. With Replays, Pinned Links remain fully interactive, so they update throughout the course of the room, allowing creators to share relevant content and realize value long after the room has ended.

Skip to the next speaker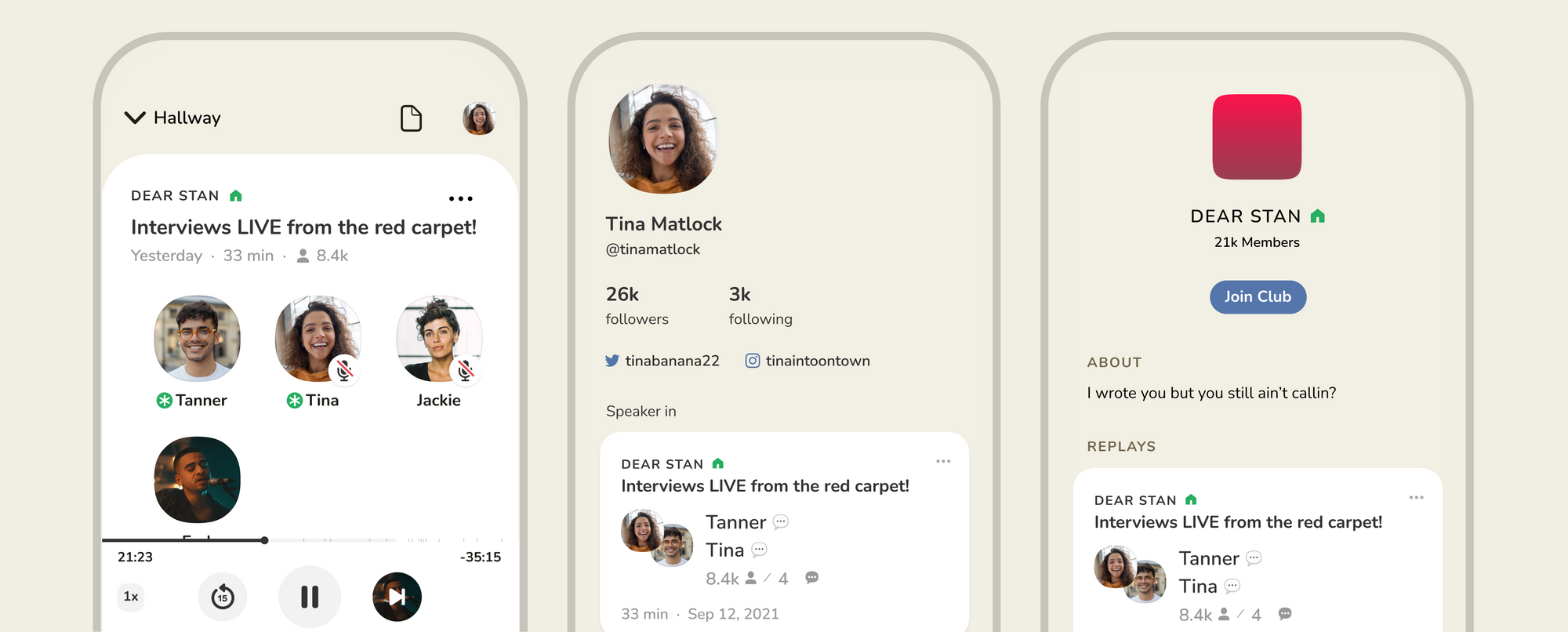 In other apps you can skip forward 30 seconds if you'd like to speed things up. This is great, but Clubhouse is about people, and sometimes it's nice to have more control. With Replays, you can skip to the next speaker. This lets you tap through to your favorite people and focus the room on the parts that matter most to you. You can also pause, play, scrub, clip and listen at 1.5x or 2x.

See who's joining
With podcasts, it's hard to know your audience. With Clubhouse, the live experience is defined by the people in the room. There is something special about seeing the friends around you and caring about who is listening. With Replays it's no different. As a creator, you can see the people in the room, share that experience with them, and connect with them — even if they listened after the fact. If you ever want to hide yourself from the audience, you can do that by tapping the "...".
Download the source file
Room creators will have the ability to download the audio so they can edit it and use it wherever they want — as a podcast, a clip on YouTube, an Instagram story, a TikTok video, an embed in their article or newsletter, or anywhere else. The replay will also be discoverable within Clubhouse — from club pages, speakers' profiles (unless they choose to hide it), search (starting next week), and more.
Total Attendee Count

A final thing that we're excited about with Replays is the rollout of Total Attendee Count. You know what's almost as much fun as saying you had 20 or 200 or 2,000 people in a room at the same time? Being able to share that 20,000 people joined your room over the course of the day! Beginning today, room creators will be able to see (and share) cumulative counts of all the people who came through a room. It's the first of many new analytics features that we'll be adding for room creators in the months ahead.  
Replays are starting to roll out today on iOS and Android. In the meantime, you may already see a few Replays out in the wild (thanks to all the amazing Clubhouse creators who helped us test the feature). Here are some of our favorite ones for you to check out!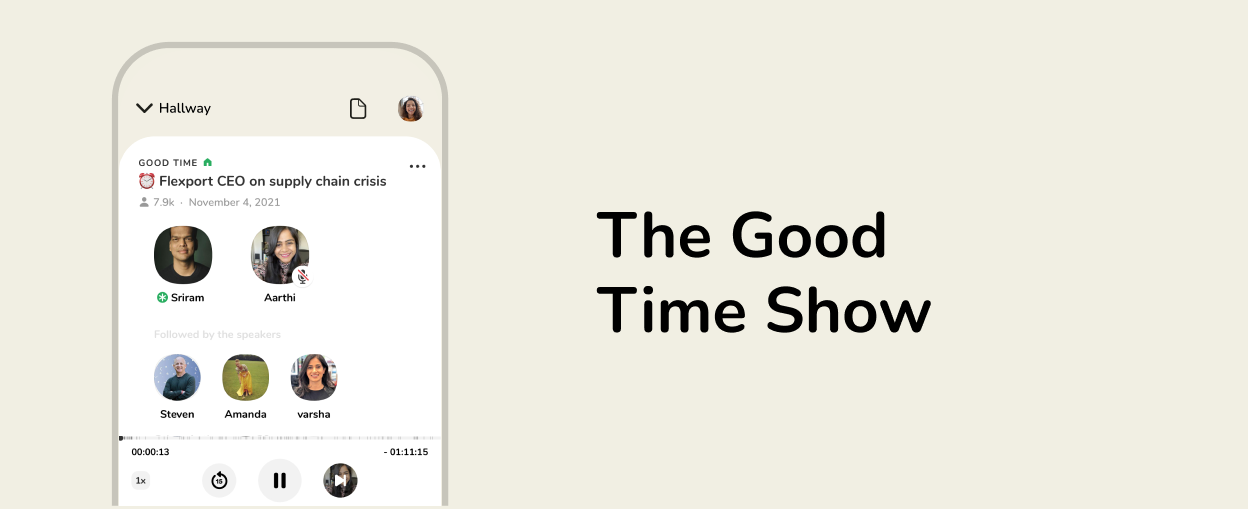 Listen to the episode Replay on Clubhouse. The latest episode goes into the crazy complexity behind the current global supply chain crisis, as well as discussion of the platform formerly known as Facebook. Hop to 14 minutes in to hear Ryan Peterson, CEO of Flexport and author of a Very Important Twitter Thread, give a really clear, much-needed explanation of how and why supply chain issues are impacting the US right now.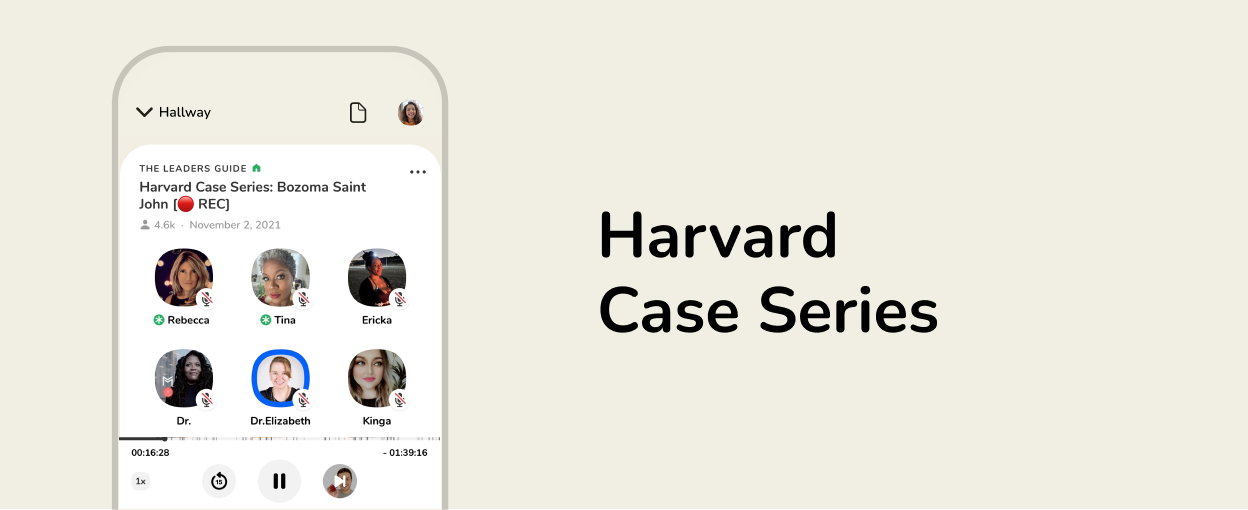 Listen to the episode Replay on Clubhouse. As always, a super-distinguished crew of people from many walks of life comes together to talk about big questions and deep thoughts in the world of business. This time around, they're talking about the concept of "turnkey moments" when everything seems to click and fall into place. Karen Kenyatta Russell shares how near-death experiences have changed her outlook on life at 51 minutes in, and catch a special surprise of the kind that only happens on Clubhouse a few minutes later.