If you've ever had a disagreement with someone about the "right" way to play Monopoly, or knew to take off your shoes before walking into a friend's home, you understand the importance of learning house rules.
At Clubhouse, we think it's important that House founders can set and enforce rules to create the best environment for their community. So, we've built a number of features that let you set the tone and stay in control over your House experience:
Define your House Rules – Everyone is required to follow Clubhouse's community guidelines, but House founders can set additional rules for how people need to behave in the House. Just go to House settings and tap "description" to set the rules for your members to see.
Control who's invited – House founders can decide who joins their House and how it grows. You have the option to make your House open for anyone, allow new members by approval, or keep it invite-only. For approved memberships and invite-only Houses, you can even control how many invites your members receive to bring new members on board.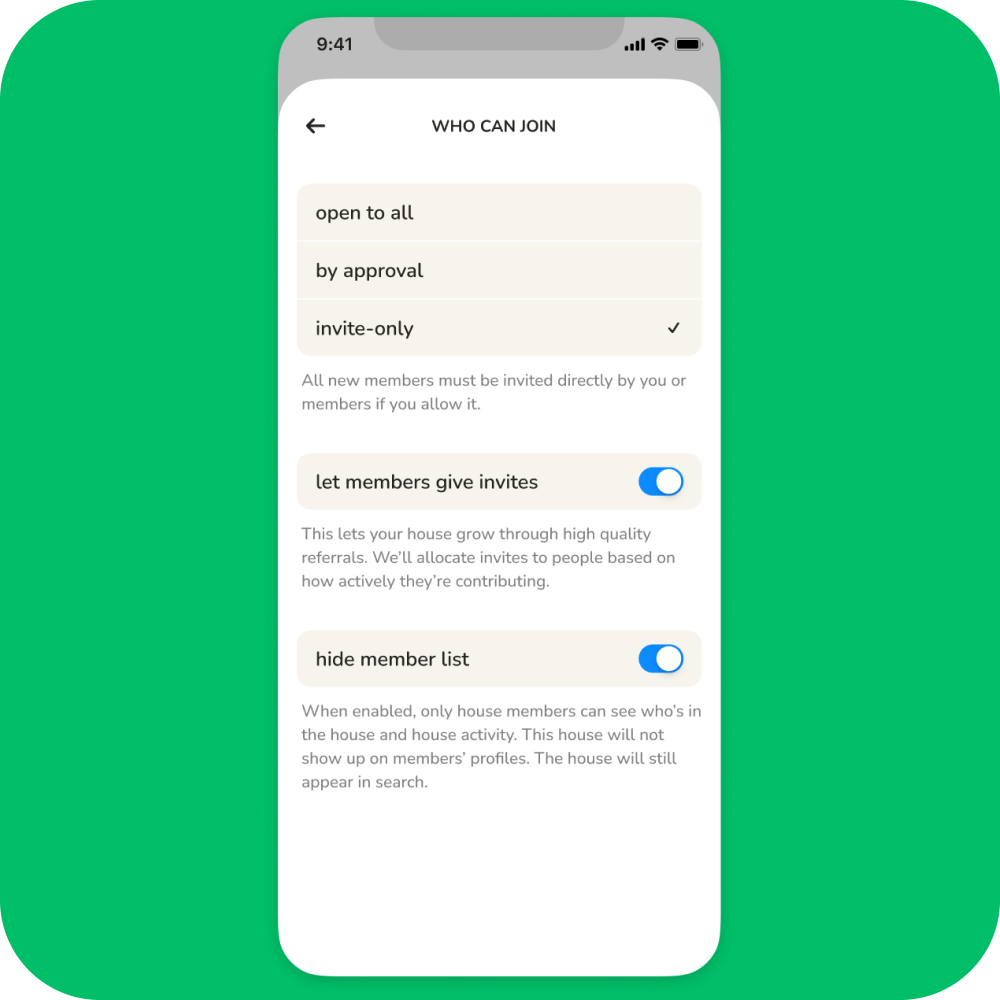 Hidden House membership – Hide your House's member list from the public.
Assign moderators + admins – Recruit some extra help to keep tabs on all the conversations in your House and ensure everyone is on their best behavior. Assign admins – who will have nearly all the same permissions as the founder – or moderators, who can do things like remove people from rooms or bring people on stage.
Moderate the conversation – House founders, admins and moderators can keep conversations on track by controlling who can become a speaker and managing the in-room chats. They can invite speakers up on stage, control who is allowed to raise their hand to speak (or turn this feature off), mute speakers during the conversation, or even remove them from the stage completely. In-room chats can also be turned on or off to your preference, and messages in the chat can be reported or removed.
Set House access controls – House founders and admins can decide what features are available in their House and to whom. For example, you can toggle the Lounge on or off, define who can start or speak in a room, and limit who can send messages.
Receive and act on reports from House members – If a member reports a user in your House, in addition to notifying Clubhouse's Trust and Safety team, the House admins will receive a notification, allowing them to review the violation against their House rules and evaluate any enforcement action they'd like to take.
Kick out bad actors – Users who break House rules or are otherwise disruptive to House harmony can be removed at the discretion of admins and moderators – admins can remove users from the House, while moderators can remove users from specific rooms. If these users are violating Clubhouse community rules, you can remove and report them by navigating to their profile and tapping "..." at the top right corner to report an incident. Learn more about incident reporting here.
Pull the plug on bad conversations – While we hope it's rarely needed, if problems go beyond an individual user and are impacting an entire room, admins have the ability to close rooms made within the House by entering the room, tapping the "..." and selecting "end room".
Even if you're not a House founder, admin or moderator, you still have many tools at your disposal to have control over your Clubhouse experience, including:
Block other users – Minimize unwanted interactions by blocking users you wish to avoid by tapping the "..." at the top right of their profile and selecting "block".
Report bad actors – If anyone breaks Clubhouse's community guidelines, report them to our Trust and Safety team who will quickly review and take action. You can report users whether it's in a room, chat, backchannel, on a profile, and you can even report an entire House.  Reports can lead our team to take a number of steps depending on the severity, including issuing a warning, removing the content, or removing someone's account entirely.
Activate protected profile setting – Control who can follow you on Clubhouse by turning on the protected profile setting. Go to settings > tap on user name > enable protected profile to require approvals for new followers. Only your approved followers will be able to see the rooms, clubs, and replays on your profile.
We hope these tools will help you get the most out of your Clubhouse experience while keeping our community safe and respectful (even when we're having hard conversations). For more information on Clubhouse's approach to Trust and Safety and the resources available to you, check out Clubhouse's community guidelines and our knowledge center.