Update (August 17, 2021)
Today we're rolling out the updates to Club structure! This new, simplified setup merges followers and members at the admins' discretion. Because Doing Things Is Hard™, some clubs might experience a delay in the conversion of followers into members, but don't worry — they'll be added as members within the next 48 hours.
Here's an FAQ with some more details. Thanks to all who submitted feedback, and keep it coming to contact@clubhouse.com 😇
Original post (July 25, 2021)
Clubs are a very important part of Clubhouse — it's half the name, after all! Creating a shared space for regular conversations, be they public or private, means that likeminded people can connect no matter how big the community grows.
Now that our doors are wide open, we're making some one-time changes to simplify how clubs work and make them easier to manage for new and experienced Admins alike. These updates are based on a lot of feedback we've received from top club Admins, so we think you'll like them, but we wanted to give you all a chance to preview the changes before they go live to make sure we're not breaking anything important.
Thanks in advance for your input!
What's changing
First, we're simplifying things by eliminating club "Followers," so there is a single relationship you can have to a club: "Membership."
If you're the Admin of a club, you can choose to make your membership "Open" (meaning anyone can join as a Member) or "By Approval" (meaning you individually approve all Members).
We think people hosting public shows will want to set their club membership to "Open." This means they will no longer need to manually convert every Follower into a Member, which will hopefully save them a lot of time.
People building private communities can set their clubs' membership to "By Approval." This means they can let anyone "Apply to Join" from their club page, and then choose which people to approve. Or they can hide this button from the club page to make it truly invite-only.
Second, we're creating a new role called "Leaders" to help club Admins make their clubs successful.
Leaders can start rooms and schedule events that all club members can see, but can't edit club settings, edit the club name, or add/remove members. Admins can choose which trusted club members to designate as Leaders.
After we make this change, here is what the roles and rights will look like: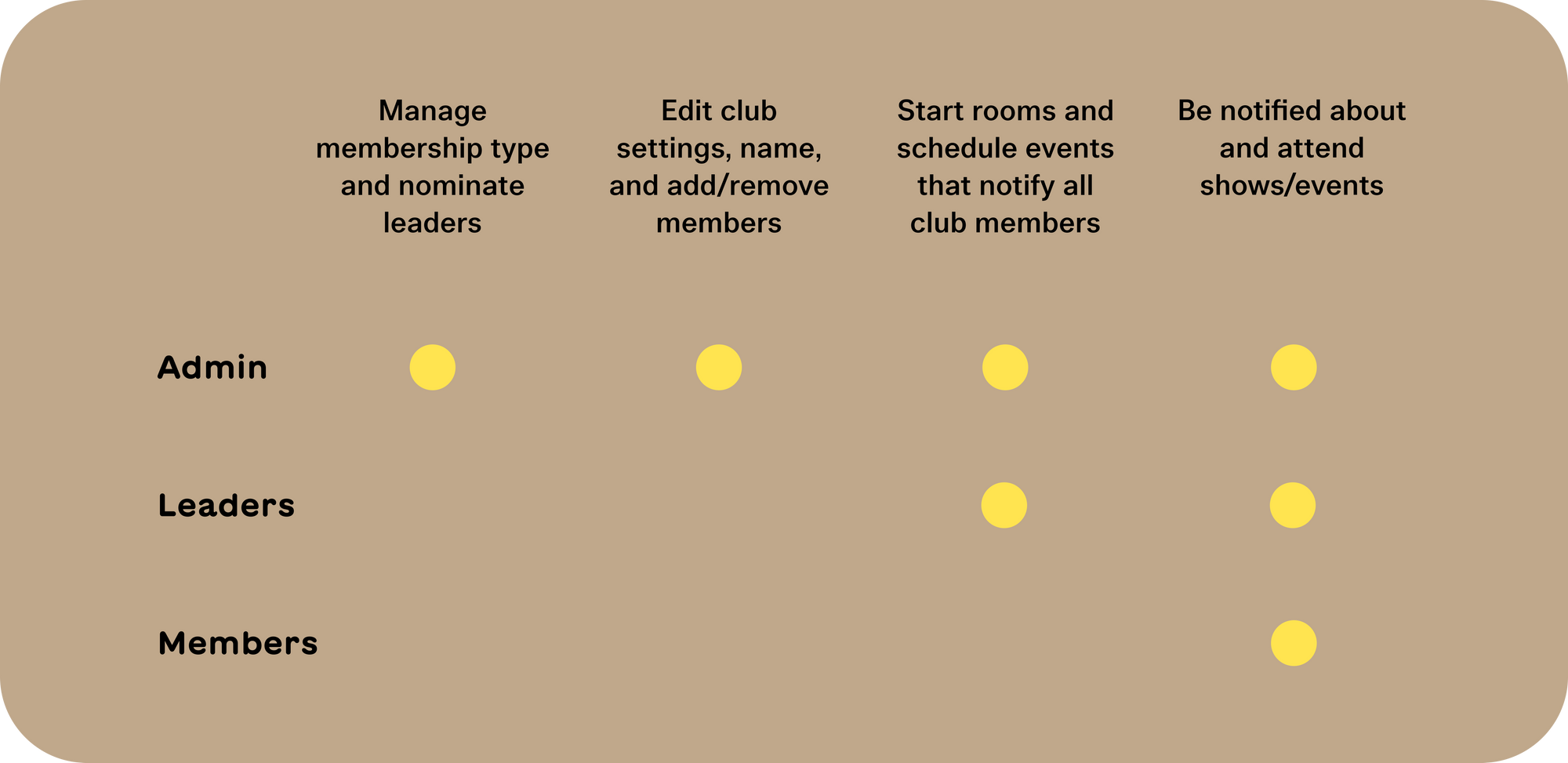 What will happen with existing clubs
All newly created clubs will have these features be default. Existing clubs will get these features, but some Admins will need to take action to transition their club to the new model.
Here's how it will work:
Clubs that don't allow Followers today will remain mostly unchanged.
The only difference is that people will now be able to "Apply to Join" these clubs from the club page. As noted earlier, Admins can also turn this feature off if they want.
Clubs that have Followers today, and do not allow Members to create rooms (e.g., shows) will have their Followers automatically converted into Members.
It's still the same set of people who love all your club has to offer, they're just officially called "Members" now, instead of "Followers." By default, anyone will be able to join these clubs, just like anyone can follow them today. If for any reason Admins don't want this, they can change this setting anytime from their club's Settings page.
Here's what the pop-up will look like to let them know about the changes: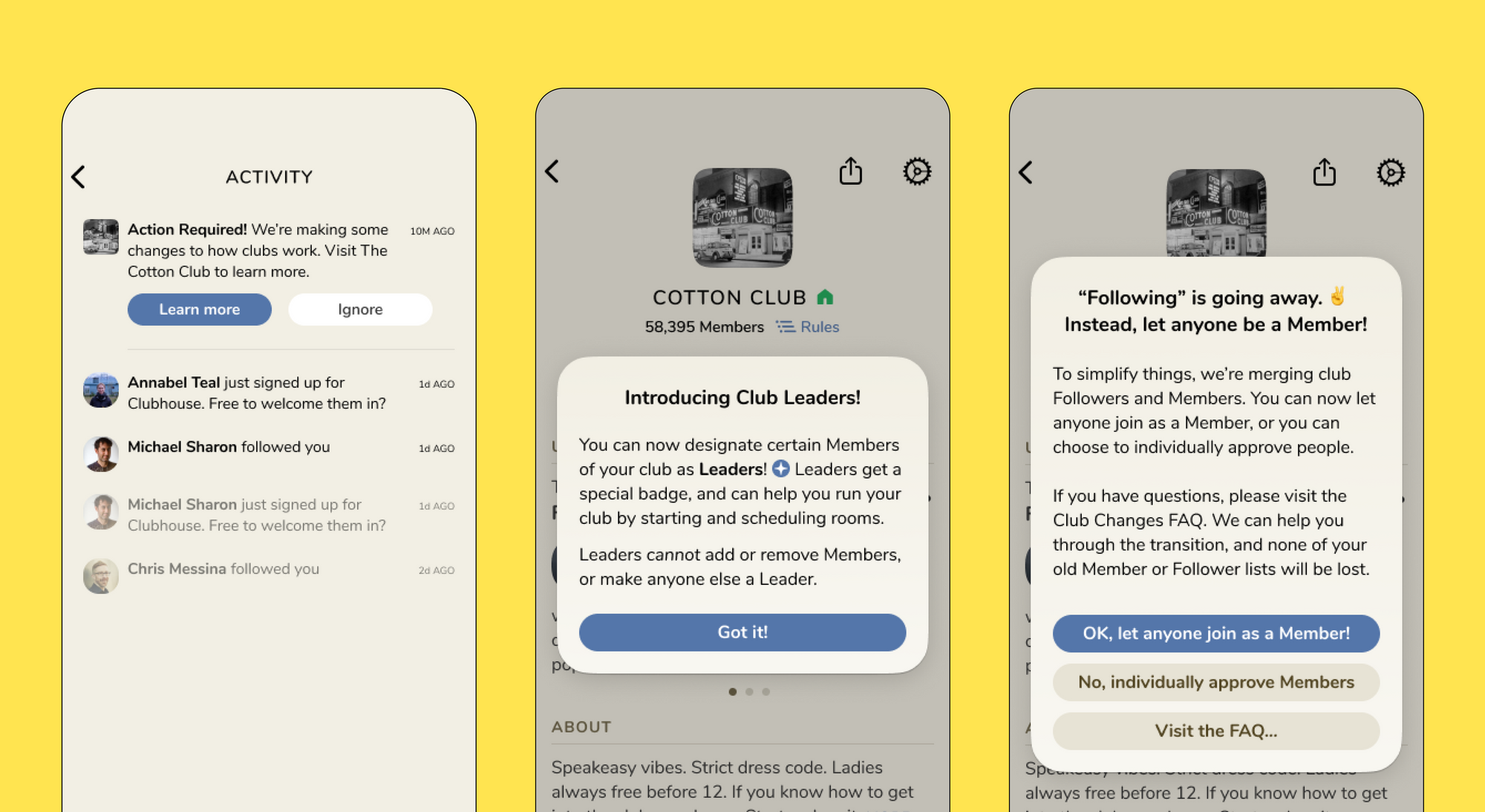 Clubs that have Followers today, and do allow Members to create rooms (e.g., communities) will get to decide whether to let anyone join as a Member, or to individually approve people as Members.
If the club chooses to let anyone join as a Member, their old Followers will be automatically upgraded to Members, and any new people will be able to instantly join the community as Members. If they choose this option, we'll ask them to confirm that they still want all members to be able to start rooms: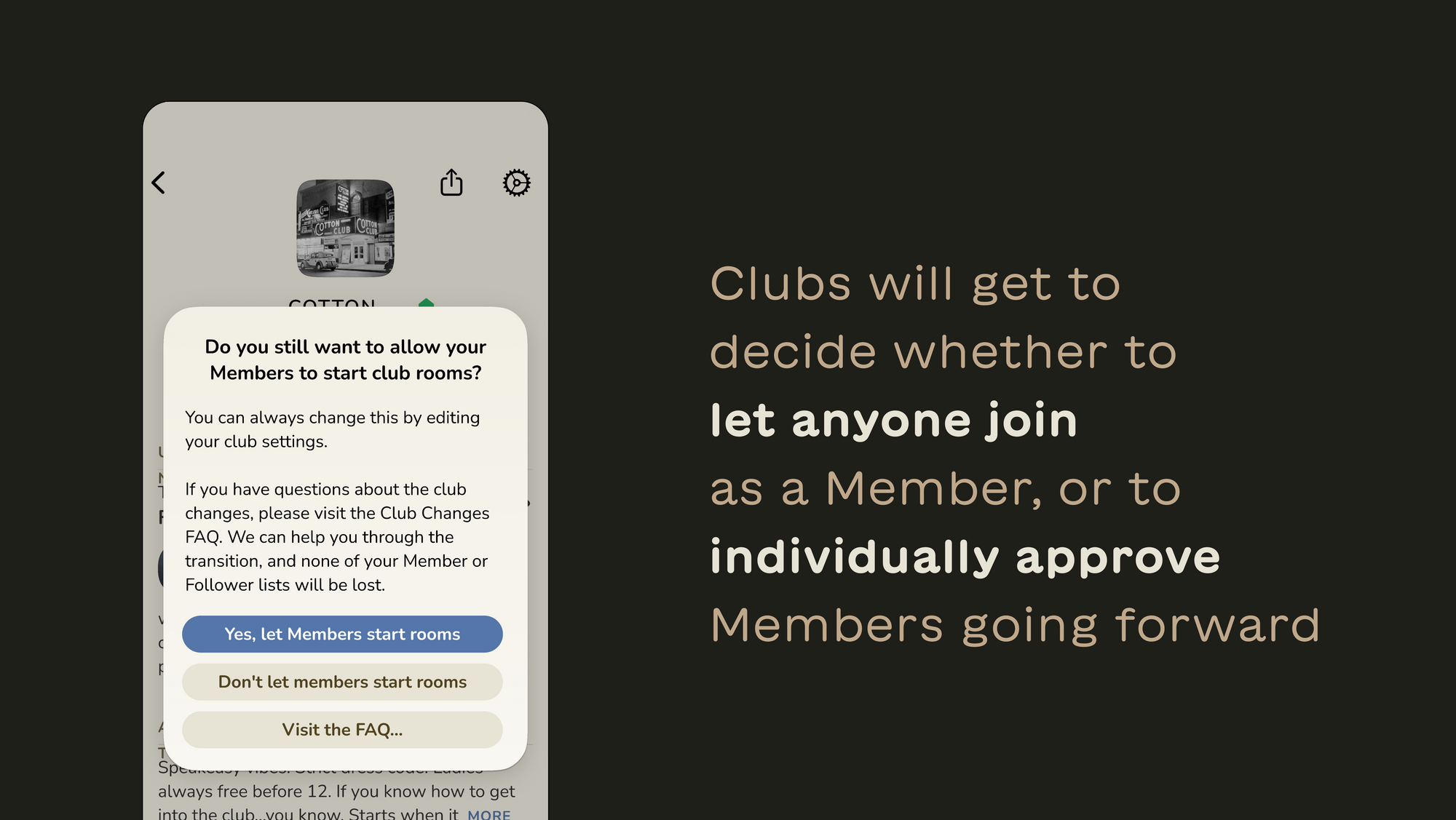 If the club chooses to individually approve members, they'll be able to find their old Followers list anytime in the "Add Members" section of their club page, in case they want to approve them as Members at a later date. Until they are approved or rejected as Members, these old Followers will continue to get notified about any public rooms the club hosts.
All club Admins will get a notification about these changes and we'll provide a detailed FAQ with guidance on how to ensure their club is set up the way they want.
We want your feedback!
If you're a club Admin, we'd love your feedback to make sure we're not missing anything! You can share any thoughts, concerns or ideas with us here.
As always, thank you for being a part of the Clubhouse community!