We launched the Creator First accelerator program in the US earlier this year with a class of 25 creators. This program was created to support creators as they worked to develop their shows and audiences on Clubhouse. After seeing our India community grow, we announced an India specific version of this program early this summer.
We were thrilled to see all the submissions by the creators in India during this application process and want to thank everyone who took the time to apply for Creator First so far! We also want to remind everyone that this is just the first cohort of winners for Creator First India and we hope to announce more cohorts in the coming months. If you have an inspiration for a great Clubhouse room, please save the application here!
As a reminder, Clubhouse will help these individuals and teams behind these selected shows by providing financial, logistical and promotional support during their course in the program, so that these creators can do what they do best - create amazing shows that cater to the unique needs of our Indian audience. Without further ado our first class of Creator First India winners are: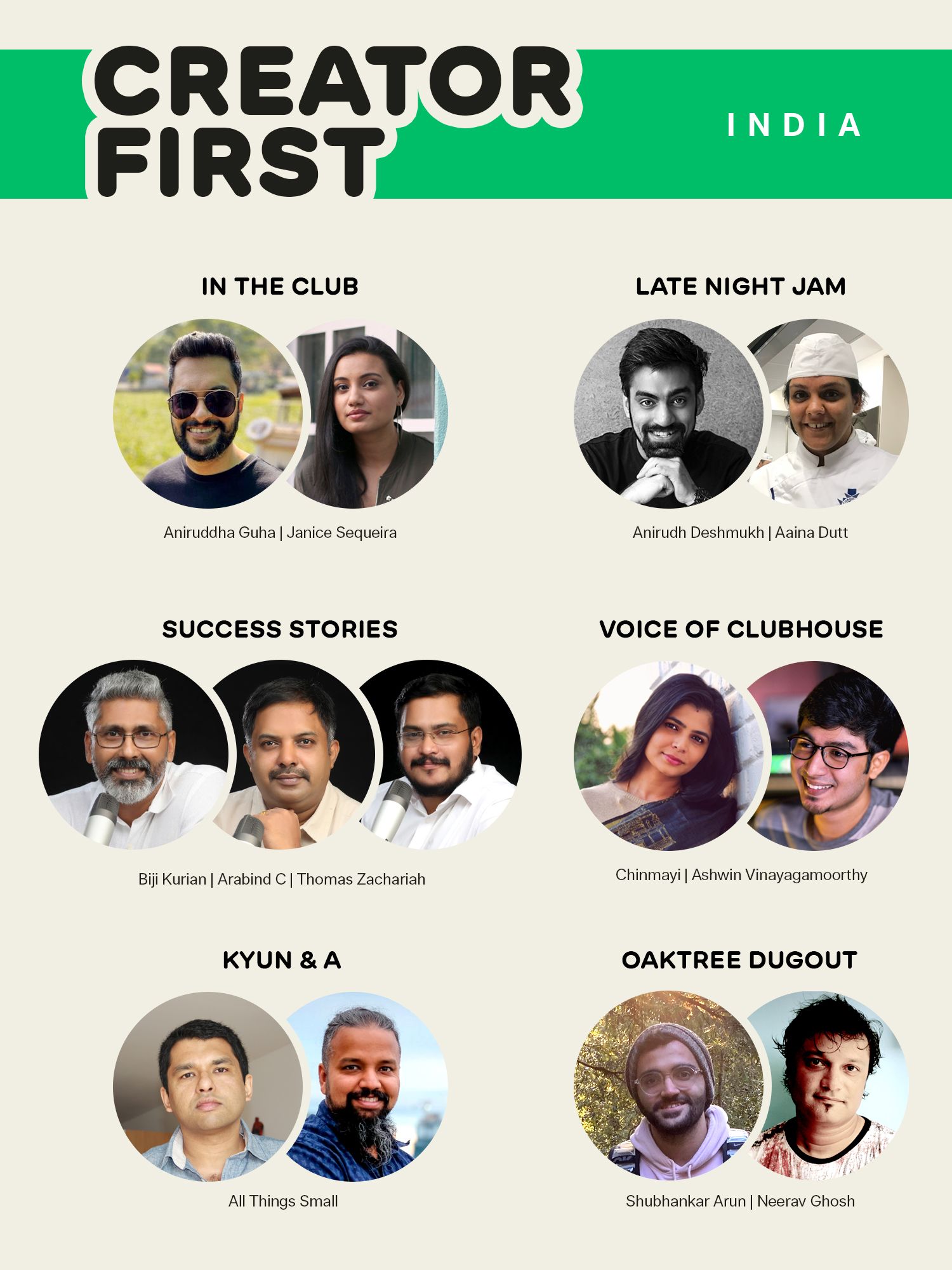 'Kerala Cafe: Success Stories' by Thomas Zachariah, Kruain and Arabind Chandrasekhar: The Success Stories room series moderated by this trio helps listeners find and share stories of inspiration and motivation from all walks of life.
'Oaktree Dugout' by Neerav Ghosh & Shubhankar Arun: A weekly recap of the latest in cricket from the recent IPL season to pink ball and beyond.
'LATE NIGHT JAM' by Anirudh Deshmukh and Aaina Dutt: If you visit the hallway on most late nights you've probably listened to this long running musical jam room helmed by Anirudh and Aaina.
'IN THE CLUB' by Aniruddha Guha and Janice Sequeira: Husband-wife duo Aniruddha Guha and Janice Sequeira host your favorite household names from cinema, fashion and beyond in this weekly talk show.
'The Voice of Clubhouse Telugu' by Chinmayi Sripaada & Ashwin Vinayagamoorthy: Playback singer Chinmayi Sripaada and her rotating cast of hosts will use Clubhouse to find the next voice for a Telugu film.
'Kyun & A' by All Things Small: Hosted by Kumar Varun, this is a new weekly interactive quiz show built for Clubhouse -- with fun questions and cash prizes, this show lets anyone on Clubhouse compete to become a quizmaster.
Congratulations to all the winners in this first group! We are so excited to support these shows and creators and stand in awe of the Clubhouse creators in India who are sharing their talents with people all over the world. If you have any questions, please send them to creatorfirstindia@clubhouse.com.

Aarthi Ramamurthy
Head of International, Clubhouse