Over the past several months, we've begun building a new program focused on supporting creators, the Creator First accelerator. The program was conceived as a way to assist creators as they develop, produce, and share their visions with a growing audience on Clubhouse. A few weeks ago, we announced the participants for our Pilot Season, and listening to the pilot shows everyone created has been awe-inspiring. We've laughed and cried, played games together, and learned more than we ever could have expected from this exceptional group.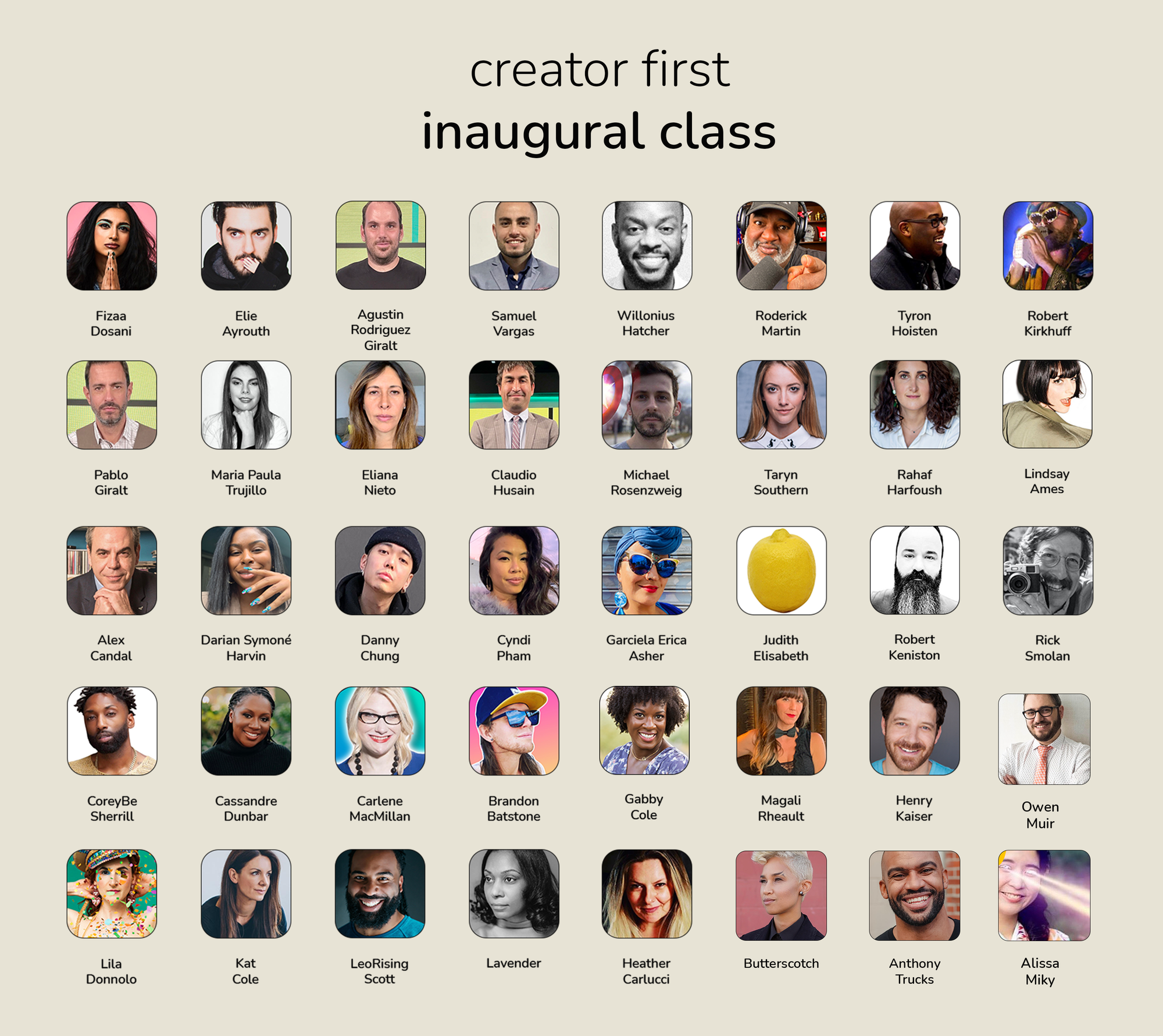 We want to thank each and every person who applied and participated in this process. Now it is time to move forward from pilots to series.  The individuals and teams behind these shows will continue to enjoy financial, logistical and promotional support from Clubhouse as they ramp up their rooms through the summer.  
Today comes the next chapter in this journey, and without further ado, we'd like to introduce the Creator First Class of 2021!
"A Thousand Words" by Rick Smolan
A conversation with the world's leading photojournalists, examining their portfolio and technique.
"Be Well, Sis" by Cassandre Dunbar
A weekly interactive show where women with diverse expertise and experiences come together to have an incredibly open and honest conversation that aims to make wellness more inclusive and give the audience real-time actionable insights to improve their wellbeing. Discussions range from the Black Maternal Health Crisis to Overcoming Imposter Syndrome to Incorporating Mindfulness in Daily Living and everything in between.
"Beats, Rhymes & Strings" by Butterscotch
Music lovers and professionals assemble in this LGBTQIA-inclusive, weekly performance series that ends in a unique combination of Q&A and group performance.
"Beauty Headlines" by Darian Symoné Harvin
A weekly show that keeps you up to speed on the latest beauty news as the intersection of politics and pop culture, and how it affects you — even when you don't realize it.
"Clubhouse Squares" by Robert Keniston, Miz Diagnosis (AKA Dobbs DeCorsey), and Jack Lamont
Two contestants play a game of Tic-Tac-Toe by "agreeing" or "disagreeing" with the answers provided by a panel of celebrities/influencers to simple trivia questions.
"Comedy Court" by CoreyBe Sherrill, Tina Graham, and Shaina Farrow
Have you been hurt by the justice system? Slighted by law? Or even just lost an argument with yourself in a mirror? There's only one show where you can be unfairly judged by a panel of comedians. Speakers present their wrongly dismissed cases, grievances, and disputes to a jury of comedians and improvisers for a second opinion.
"Facial Recognition Comedy" by Fizaa Dosani
An interactive stand-up comedy show highlighting a lineup of comedians from underrepresented demographics. Comedians bring the audience members on stage, creating an immersive and uniquely hilarious experience.
"The Food Porn Trading Desk" by Elie Ayrouth
A rotating panel of the Internet's top food creators meet to share their creations and allow space for green foodies to get feedback and inspiration from the pros.
"The Frontier Psychiatrists Daily" by Carlene MacMillan, MD and Owen Muir, MD
The go-to daily destination for what's next in mental health, exploring oft-underrepresented topics such as the intersection of creativity, mental illness, and psychedelics.
"The Global Lowdown" by Alissa Miky and Michael Rosenzweig
Two hosts take on global news, direct-to-consumer, AI, sustainability, politics, and more in both English and Japanese to provide an opportunity for listeners learning Japanese and English to practice their skills.
"Inside K-Pop" by Danny Chung
Three K-Pop experts take on the ins and outs of the industry, what it takes to make it, and K-Pop's impact on culture at large.
"Jury Duty" by Lavender
The hottest topics are put on the docket to be debated before a panel of 12 jurors with input from the audience. Everyone gets the chance to speak and make predictions.
"Maze Runnerz" by Gabby Cole
Mothers create a safe space to normalize the concept of proactive self-care in motherhood through, discussion, storytelling, and Q&As.
"NNPR: Not National Public Radio" by Henry Kaiser, Lindsay Ames, Robert Kirkhuff and Judith Elisabeth
NNPR is a powerful public radio parody, featuring a dynamic roster of characters, hosts, and guests providing comedic programming on arts & culture in an organically fun and interactive way.
"Offsiders" by Pablo Giralt, Alex Candal, Claudio "Turco" Husain, Samuel Vargas, Eliana Nieto, Agustin Rodriguez, and Maria Paula Trujillo
For the most passionate soccer lovers, this Spanish-speaking show hosts the most up-to-date conversations and debates about the sport globally.
"Positively Sex" by Lila Donnolo
The show that investigates intimacy (of all kinds) with care and respect, in a series of deep, dynamic, and pleasurable discussions on complex sex-positive topics.
"Plant R&R" by Brandon Batstone
A network of psychedelic experts and enthusiasts assemble to create a safe space for sober individuals to explore and integrate alternative recovery methods through plant medicine.
"The Psychic Pool Party" by LeoRising Scott, Heather Carlucci, Garciela Asher
A social room for guests in the fields of personal power and psychic aptitude. We seek the intersection between clairvoyant viewpoints, pop culture, politics, and metaphysical ethics.
"Radio Play" by Tyron Hoisten
An updated version of the radio drama. This immersive original scripted series is performed live on a rotating basis and then discussed by the audience.
"SEX PROFITEERS" by Cyndi Pham and Magali Rheault
Dissecting the many ways that the concept of "sexy" is marketed, consumed, and monetized.
"Shift Happens" by Anthony Trucks
A bi-weekly interview show centered on how people have handled major shifts and hardships in their life — such as layoffs, divorce,  moving away from home, financial loss, or even death of a loved one —  and pivoted to achieve their greatest success and goals.
"Thought Experiment" by Rahaf Harfoush and Kat Cole
A weekly exploration of thought provoking ideas to help us better lead at work and at home. Leading thinkers. Intimate discussion. Actionable Insights.
"UFOLOGY" by Roderick Martin
Uncover the possibility of new truths and lies you never knew you were told, in a recurring UFO and extraterrestrial focused show hosted by one of the world's only Black certified UFO investigators. This show asks for believers to not look up to the stars, but what's happening here on earth with those who have been impacted.
"When Things Go South"by Taryn Southern
Cancer survivor & creative technologist Taryn Southern sits down with authors, scientists, entrepreneurs, and other thought leaders to shine a light on the practical tools and unconventional habits they employ to transcend life's most challenging moments.
"The Young & The Thirsty" by Willonius Hatcher
A semi-improvised daily comedic soap opera.