Hey, quick question 👋 Where's the best spot in your area that has the most buttery and sweetest caramel drizzled popcorn? Asking for a friend.
Out of the hundreds of thousands of rooms that are created daily, many — most, actually — are full of people catching up with friends, finding each other in the hallway after the finale of a favorite show, regrouping on D&D strategies, helping one another fall asleep or decide where to go for dinner, and generally having conversations about nothing and everything. Those kinds of spontaneous, casual moments are not always the stories that make headlines, but they are the core of what makes Clubhouse great.
With that in mind, we're building some new features to make it easier to quickly find and start talking with old friends, and make new ones along the way!
Wave Bar
We're testing a handy lil' bar at the top of your screen where you can easily see who's online, and wave to start up a room with them without spending your thumb's precious energy on a sidebar.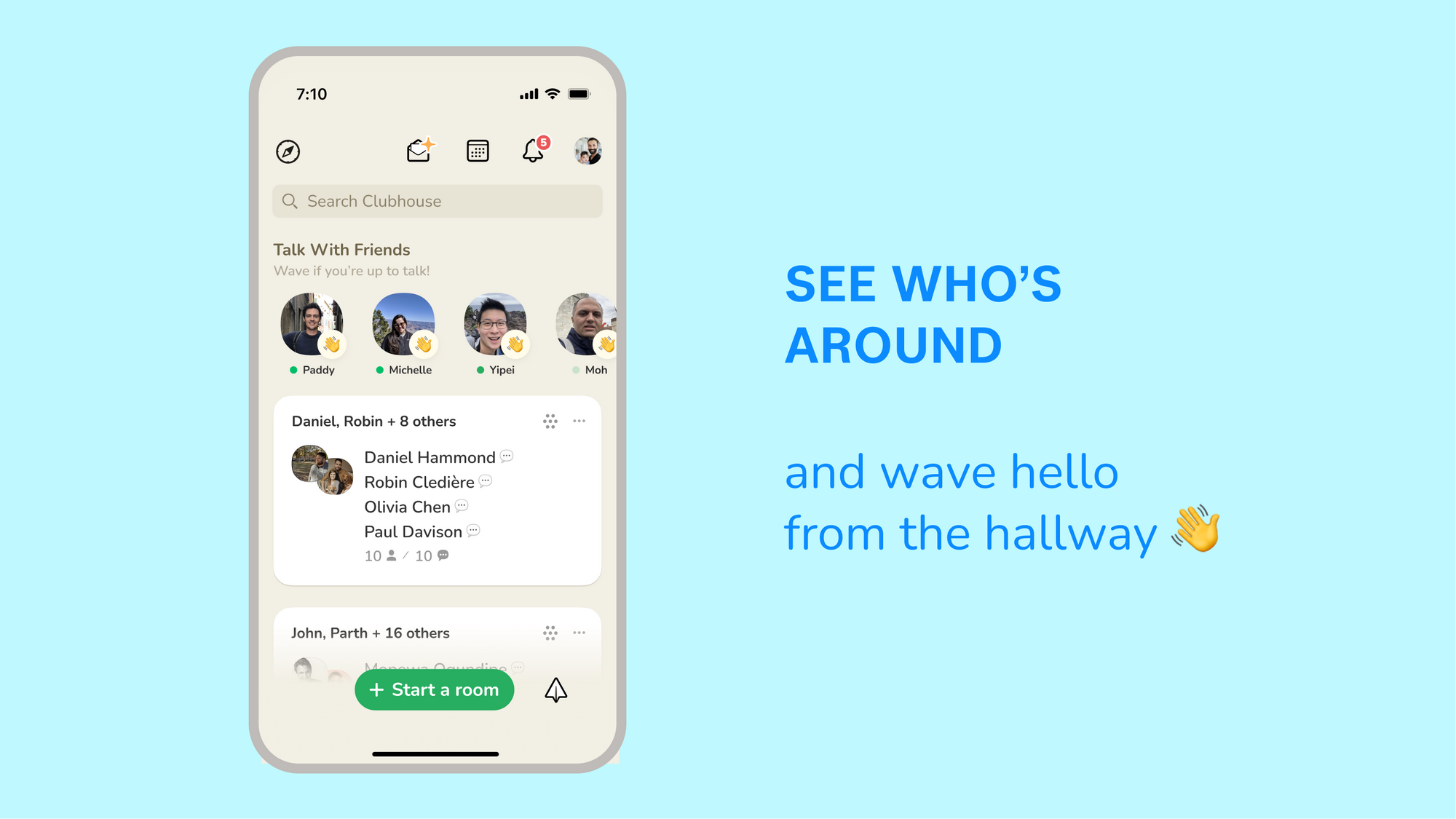 Waves will now open social rooms instead of private rooms, so that friends of speakers can join the conversation, and speakers can ping in friends. There's also a new ping bar at the top of social rooms so you can ping friends in quickly.
If you decide you want to keep the conversation private, just tap the new lock room button to make the room private. Not everyone needs to join the room where you and your work spouse are engaged in a marathon session of silent typing and the occasional expletive. Or maybe they do? That's your call.
The Wave Bar experiment will begin rolling out to a lucky few tomorrow on iOS and Android. As usual, please don't hesitate to share your feedback on this feature (or others) on social, through our support channels, or even live in our weekly Tuesday evening town hall. Your thoughts are a big part of how we build, test, and improve, so keep 'em coming!