Here at Clubhouse we believe in the transformative power of friendship. Why? The answer is pretty simple: friendship brings people together. It transcends culture and race, sex and religion. It can be as simple as finding someone who shares the same niche interests as yourself like pickleball (ok, maybe not as niche as it used to be), or as challenging as finding someone you trust to share your life with, like a new business partner or a significant other. Friendship means people can support each other near and far. When friends come together, it is powerful; they can change the world. And this is exactly why we chose Iranian/African American comedian and social activist Tehran Von Ghasri, founder of the "I Am Tehran" club, Mary Amini, and Parisa Rose as our new icons. The three of them met on Clubhouse and have become closer as a result of their shared passion for change.  

After the unthinkable death of Mahsa Amini, they dropped everything and created the "#MahsaAmini: What's Going On And Why YOU Should Care" room to support the women of Iran while, first and foremost, creating a safe space for women and allies to come and share their experiences, as well as crucial real-time information and updates from inside the country. The live room has now been going for over three weeks and has seen over 300,000 people come through. We could go on, but we think Tehran says it best in his words below.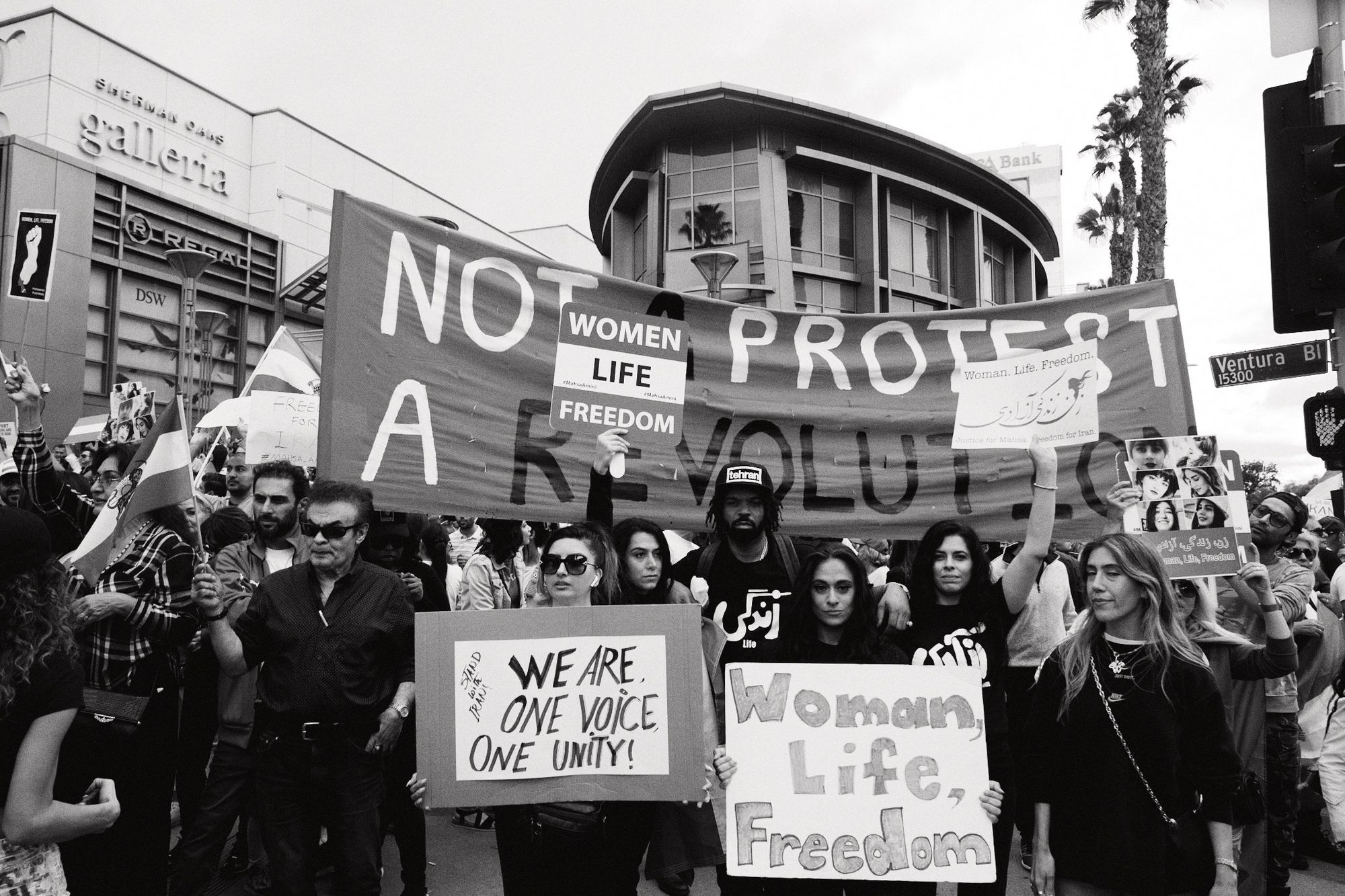 Women. Life. Freedom.
By Tehran Van Ghasri
We are not just moderators of a room but constant reminders of a movement.

On September 16, 2022 in Tehran, Iran a 22 year-young Kurdish Iranian woman named Mahsa Amini, known as Jina to her friends and family, was arrested and brutally beaten. She subsequently died under suspicious circumstances in the custody of Iran's "morality police" for simply not wearing her hijab (head scarf) correctly, as sanctioned by the Islamic Republic regime of Iran. This senseless murder caused an immediate outcry by the Iranian people and its diaspora, serving as yet another extreme example of oppression by the hands of the tyrannical Islamic Republic government. Led by fearless women in Iran, immediate protests and uprisings broke out. Iranian women risked their lives by removing their headscarves in public, many publicly cutting their hair as acts of protest. To date, over 10,000 people have been arrested and over 1,000 people have been killed by the government during the most recent protests, according to reports and some media outlets.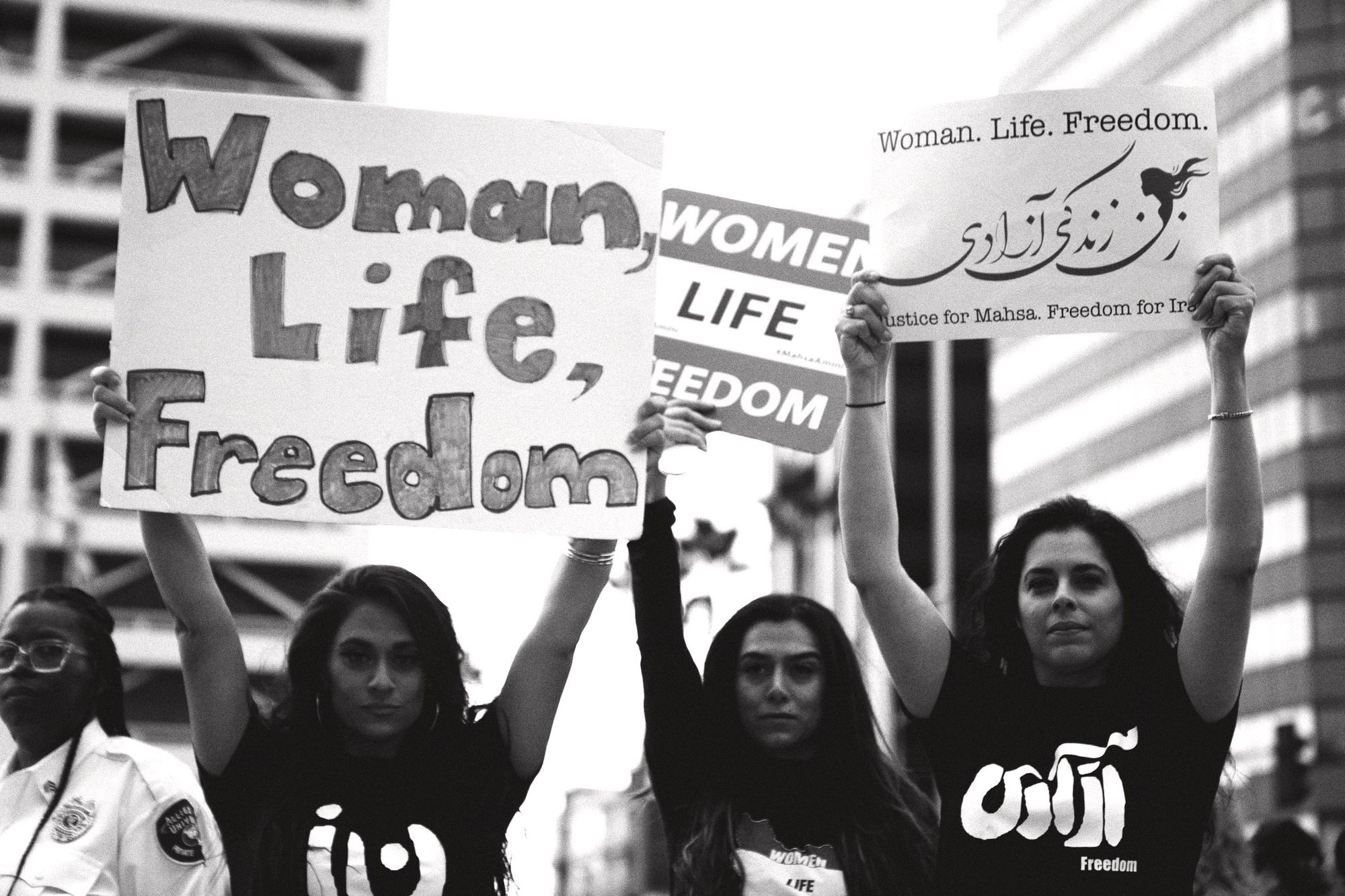 Inspired by the suggestion of my friend Ali Mozaffar, I opened the 24/7 #MahsaAmini room to show English speaking global diaspora support for the people of Iran during these trying times. With nearly 300k visitors, going strong for nearly a month with no plans to stop, the #MahsaAmini room also serves to disseminate up-to-date information on the current situation and create an open safe space for discussion in regards to the current state of Iran, with the hope of inspiring others to share in the care as well as care to share. With little news coverage, I believe sharing is the ultimate form of caring for the movement as a whole.

"I needed a place to belong while the trauma was unfolding and this place became my safe space to process and get updates. I didn't know anyone on stage before the room but they are all considered family now....We have met heart to heart, laughed out in joy and cried healing tears on this magical platform." - Mary Amini

With the help of several amazing volunteer moderators, Iranian and Non-Iranian alike - shoutouts to Shayesteh Majdnia, Maryam Azadikha, Selah Vie, Mahnaz S-M, Mazzi Soul Purpose, Johnny Nash, James Andrews, Networker Cornelia and others - the #MahsaAmini room has been a dedicated 24/7 space encouraging listeners to educate themselves on the atrocities of the Islamic Republic and to create new found motivation for the Iranian people protesting them. The room has been responsible for many celebrities and well known personalities contributing to the global 'online information sharing' movement, and for helping coordinate peaceful simultaneous protests in cities across the world IRL.

"It's a cathartic space.  It's a comforting space. Simple, yet intentional greetings such as a hello or good night have become the norm in the front chat as we've become aware of the time zones and daily life of our community. Our room is rich with passion, knowledge, compassion and commitment. Many of the people I've met in the room I hold dear to my heart, and can say with conviction my life is forever changed by them."  - Parisa Rose

The #MahsaAmini room, much like the movement, is not only about compulsory hijab laws, it's also meant to shed light on the many other sources of ongoing oppression, brutality, disenfranchisement, corruption, economic failures, murders, and injustices suffered by the Iranian people at the hands of the Islamic Republic regime. Highlights of the room include experts, journalists, professors, politicians, and well known community leaders coming in to speak. But the most meaningful  moments have been when speakers from inside Iran break through the internet bans and join, providing real-time updates and on-the-street access. A major talking point is that this is not a movement against Islam itself, or war on Iran, but the tyrannical Islamic Republic regime of Iran. It's a movement to support basic human rights, inclusive secularism, and the people of Iran. Replays are purposefully off in order to protect identities of at-risk speakers, allowing for more open and candid  dialogue, since people speaking from inside Iran are at risk of retribution at the hands of the Islamic Republic simply for speaking out. Women's rights, human rights, and "what is right" are all everyday topics of conversation and embracing the theme aligned with the IRL movement's tenant's of "Zan, Zendegi, Azadi" (Women, Life, Freedom.).